Romantic Conversation Starters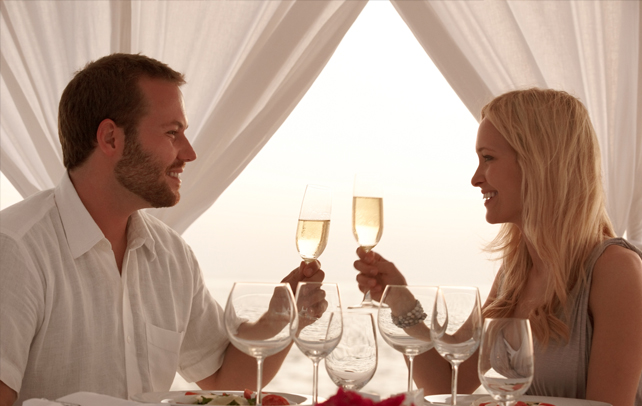 Subscribe to Riddle Puddle
The electrifying waves of love touch many hearts, and inspire several to dance and make numerous lives meaningful. Such is the greatness of the sweetest feeling of the world, 'love'. From the great scientist Einstein to the philosopher and laureate Shakespeare, all have sung songs of the holy beauty of love. Many times, love flourishes like spring and many other times, unfortunately it dies unsaid and unheard. People in the relationship often have complained about their inability to show their love and feelings irrespective of huge ocean of emotions ruffling within. While girls often live under the presumption of guy as holding the prime responsibility to take a step ahead from usual chit-chat, guys, on the other hand stay confused about the time and words to utter romantically, no matter how much love they have in their heart for that someone special. If you can relate to this mystifying situation, the next subsection, presents you with a number of sweet and romantic liners as well as questions to ask to your partner and gear up your romantic life. Just try them and see how cherished your love life becomes!
Romantic Conversation Starters And One Liners 
Hi! I really like your energy, so I had to come over and say 'hi'.
Whenever I see you, my heart actually starts working.
I love you, not for what you are, but for what I am when I am with you.
You're so beautiful that I can write volumes on you but still have things left to say.
I like/adore/love your laugh. It is adorable/sexy/magical.
What is your favourite romantic meal?
How would you describe my scent?
I never knew what Love is, never felt, never seen, and never had until you opened the door to my heart.
There is something interesting about you and I wanted to find out what that is.
You walk with such grace and elegance - I like that in a woman...my name is ______ - what's yours?
Hi! You have a great outlook, so I wanted to meet you.
Hey! I need an opinion on something. Do you think it is possible to find romance in a club/bar?
If I were to play violin, I would gather strings of your memories and a beautiful melody would be played.
You have an amazing/incredible/wonderful sense of humour!
Hey, you are cute! So for the next 5 minutes you are my new girlfriend. What is our first adventure?
I wish I could forever relive every moment I spend with you.
When have you felt the most love by me?
What is the most romantic thing a man has done to you?
Imagine your ideal romantic situation, what does it look like?
I can live longer without air than without you.
I was so worried I wasn't going to have fun tonight and then I met you.
Do you think there is a difference between romance, love and sex?
You mean everything to me! The day I met You, I found life.
If I were your genie, what three wishes would you ask for?
When I'm with you I don't want time to pass by.
If love only had wings, I would soar the sky up high just you and me with our love that'll never die.
If I were to choose between oxygen and you, I would choose you.
Whenever I see you I can feel my sorrows just melting away.
All the diamonds existing in the world look so dull in front of your beauty.
I pray to God that if I can get you, I won't ask for heaven.
It's nice to meet someone who I feel so at ease/relaxed/comfortable with.
Where do you think we'll be in exactly one year from now?
What is the most romantic thing you ever did for a man?
Sometimes I fear that you're not real, that I just dreamed up a perfect girl
Did you know celery can boost your sex drive?
What is your definition of intimacy?
Love comforts like sunshine after rain!
If you knew how much I loved you, you wouldn't be able to sleep at night knowing what you did to me.
I know for sure that these eyes will never stop admiring your beauty until the last breath escapes these lungs.
When I see that innocent smile slowly break out on your face, I get a high that no drug can ever come close to.
When I look at u, I can't see the world but just you....
Every time I see you, I try to believe you're truly true.
Just memorizing and babbling them out won't work. You need to exude a certain amount of charm while mouthing them off if you really need to break the ice.
Subscribe to Riddle Puddle