How To Express Love To A Girl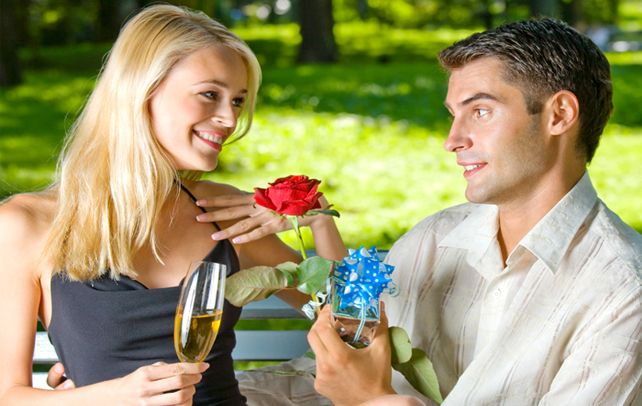 Subscribe to Riddle Puddle
Firstly, know that expressing love isn't any rocket science. You may be baffled by the idea and have sleepless nights as to how to woo your girl, but know that showing your girl that you love her is as simple as loving her. And when you did not think twice while loving her, then why are you, now, breaking your nerves while thinking of letting her know the same? Agreed, men express their love differently, but know that this isn't just like any other day when you say her 'I Love You'. Expressing love means opening up your heart to a woman and letting her know how special, treasured and precious she is. Every time that she has made you go weak in the knees, all those feelings and moments that you have lived with and for her, need to be expressed out there. While there are many ways of letting a girl know what she means to you and where she stands in your life, you have to choose one that is the winning bid for your love! In the following lines, we have mentioned some ways that would assist you in your expression of love. Hope this helps! Good Luck!  
Show It For Her To Believe It! You love her, you care for her and you know that she is the one for you. But have you ever expressed the feelings to her? If the answer is no, then there is something that we'd like to ask, what are you waiting for, Christmas? With the world going the showbiz way, something as simple as emoting love today also demands you to be showy and swanky. The era today calls for expressing love in innovative fashion. And the options are aplenty. From candle-light dinners to weekend getaways to romantic long drives, you can choose any one. But don't forget to carry along the standard stuffs, flowers, champagne and of course, the ring!  
A Walk To Remember! If privacy and solitude is what you are looking for while expressing your heartfelt emotions, a good idea would be to take your girl for a walk. However, this isn't any fitness walk or a casual stroll that you are taking her to. You are out there with a purpose, to blurt out everything that you have been storing in for the past few days. Steer your conversation in a way that it would help you come up with what you want to say to her. Taking her to a walk by the lakeside or to a well-manicured park would be a great idea. And just when you think that the two of you are all alone, past the eyesight of the others, whisper those magical words softly but clearly in her ears.  
Party Time! How about a big bang party, some close pals, lots of food, exotic drinks and a solitaire for your beloved? Sounds great? If you and your girl are party animals and love to go spree while clubbing, there can be no better way to emote your love to her than throwing a big bang party. Since the party would be in her honor, have all her delicacies in place, drinks that she loves to splurge on and her close-knit chuddy-buddies. Make sure that she has no clue about the party and only comes to know of the same when she is right in the middle of the venue. Lights closed, spot-light and you standing there with a solitaire – no girl can getaway without saying a yes! Here's toasting to the two of you!  
Creativity Calling! Put on your creative hats and get the pen moving; nothing impresses a woman more than a self-written poem that her man writes to express his love to her. If writing a poem is not your cup of tea, you can even write some short messages to express your love to her. Penning down the details of your first meeting, how you felt about it, and how you realized that the cupid had struck can even be a good way to express your love. Whatever you write, just make sure that it is original and personalized and not an inspired piece of write-up!  
Surprise, Surprise! How about planning sweet little surprise for your girl on one of your special days, right from the morning and ending it up with a revelation of your love? To do this, you can start off by delivering her favourite bunch of flowers and breakfast that she loves to hog on right in the morning. Next, you can send her an entire collection of spa products along with the dress, footwear and accessories that you want her to wear for the day. When she is ready, have a chauffeur-driven car right outside the door to take her to the place you want to meet her! Surprise her with some candies and chocolates of her favourite brand. And when she asks you what you have in your mind, just blurt it out with a ring. This sure would be the most special day of her life! Just make sure that you attach love notes with each of your surprises!  
Nothing Like Saying It! You may call it clichéd, you may call it orthodox or even boring, but there is nothing like saying those three magical words directly. While some of you may argue that girls love those flashy means of expression, remember at the end of the day it is the essence of the three words that they want to feel and immerse themselves in. So, go out there, hold her hand, look deep into her eyes, clear your voice and pop out the love words. Who knows she might reciprocate to you immediately with a kiss and a hug? Go for it!
Final: Whichever method you take up, approach your girl only when your feelings for her are real, for when you are sure about them, confidence and poise would come automatically. Just have patience and stay positive!
Subscribe to Riddle Puddle