Relationships After Divorce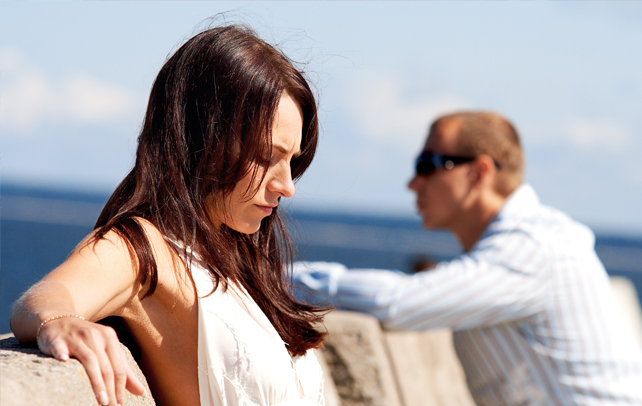 Subscribe to Riddle Puddle
You maintained the loyalty in your relationship and stuck with it across all odds and falls. But all this couldn't save your relationship and you too thought that it was right to free your partner. Probably after that painful experience now you are looking for a new beginning with a new partner. But, your dating skills are down to zero and now when you need them the most you find yourself handicapped. You are trying to fall into some other relationship but you somehow still feel restricted. Your conscience is still not allowing you to do so. This is nothing but the post divorce syndrome you are suffering from, as it is still to be registered in your psyche that you are single. Shun these inhibitions and start living life on your own terms, as you alone are the navigator of your life now. Experiment a little, be a little choosy, treat yourself with only the best and indulge yourself, but keep a virtual limit for yourself. If you need some help you can use these pointers.
Tips on Relationships After Divorce
You Need Some Attitude For few people the end of their marital relation marks the end of their life, both emotional as well as social. People feels stuck in the past and resent any kind of effort to fill in that void in their life. First of all, this attitude needs to be changed if one really is trying to move on. You should be pro-active when it comes to solving this problem. All that is needed is an urge to survive, so one is easily able to start a new relationship. Only a handful of people believe that this end is also a new beginning.
Be Sure Not To Fall Again Make sure that you have learnt the lesson from your previous mistakes and at least don't make the same blunder twice. You know what your shortcomings were whilst you were in a relationship; make sure the next relationship you fall into is compatible to you in maximum traits. Try sorting out your life by coming up with new desires to live and seek the hunger for love. Don't fall for the traits which you fell for the last time, look at the relationship as a whole. Every relationship is a journey to discover a new person.
Be Optimistic Be optimistic and consider your divorce as a part of life and emotional pain as a motivator to move on. You need to know that you got a new insight into people which you lacked earlier. Now you have a fairly good knowledge of human nature. Don't allow the ghosts of the past haunt your current relationship. Clear your cupboard of the skeletons of past, it is an art of working your way towards maturity.
Take the Blame No one remains free from the blame when it comes to broken relationships. If your partner was at fault, there must have been some fault on your part too. So be mature enough to accept the blame and though it is a mixed baggage of blames, you need to keep your part in the whole thing. Unless you really accept the blame you can't get totally out of it. No need trying to hide from the pain; it will only aggravate the feeling of remorse.
Forgive Don't keep the anger and frustration on your ex, vent it out by any of the therapeutic procedures and at last forgive. Forgive him/her for whatever mistakes that have been committed by him/her, be it intentional or unintentional. Till the time you won't forgive your partner, it will be difficult for you to move on. The baggage of anger and remorse will keep following you.
Your Relationship Is Dead Divorce means end of your relationship with your past partner. It also means you are single so you can always date or enter into a new relationship and believe it when we say it, there is no age of falling in love. As after coming out of a relationship it leaves a void inside you which gnaws on, and needs to be filled in with love and affection.
Do what is done after every fall—get up, shake yourself out of it and move forward. Life is too short to look back at mistakes; live it and love yourself.
Subscribe to Riddle Puddle