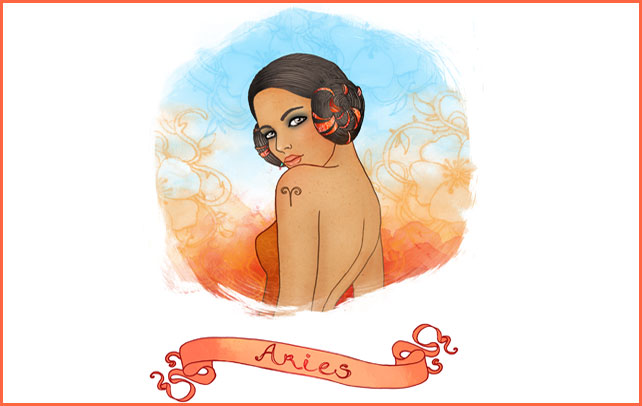 Subscribe to Riddle Puddle
Energetic, ambitious, impulsive and headstrong—these are some qualities that your dream date is likely to possess if he/she falls under the sun sign, Aries. A date with an Aries can be full of excitement provided you do your homework devotedly. As a general rule, Aries love being admired and basked with warm compliments. Right from compliments on their physique to any good abstract quality that they possess, Aries have a tendency to hear good, better and best. Per se, the most ideal way to approach an Aries is to keep a good list of positive attributes in hand. However, they are highly mysterious and powerful, which can urge you to push up yourself to match their spirits and skills in order to date them. What's more, they are highly impulsive, impatient and moody, thereby posing a challenge to handle them with care. On the contrary, once agreed, dating an Aries can be a delightful experience. You can find a generous, protective and caring companion in them, as they are known for taking the lead, be it asking out, confessing their love, or even making physical contact. To win the heart of an Aries, you sure need to play a luck game. Pull up your sleeves and attract an Aries person with some dos and don'ts while asking him/her for a date.
Tips On Dating An Aries
Dating An Aries Woman
Arian females have a dominant personality and expect their partners to be the same. Hence, do not act as a weakling, fickle in mind or timid. Display good confidence, be poised and driven.
These women have a sweet tooth for adventure and fun. Ensure to engage them in new activities that'll bring out the leader and bold spirit in them. It is okay to let them take the lead and initiate pastime activities at times.
Do not expect her to be by your side all the while. Leadership, being her inherent trait, will drive her to devote time to achieve her goals for a higher position in life.
Be genuine and honest if you are serious about courting an Aries woman. There isn't any better way to win her heart by showing your true self. Do not overstate about yourself as this is one thing that Aries truly detest—lying about oneself.
Have patience and listen attentively to what she has to say about herself, be it about her ambition, feelings, or objectives in life. Aries women tend to constantly pop topics of self-importance in conversation.
Never take an Aries woman for granted. It is highly significant to ensure that you should always make her feel special. Come up with new and exciting activities that will make her feel wanted and privileged. Once given, see her reciprocate the same care and love to you.
Although an Aries lady will strongly support you in the worst of your times, but it will be of utmost importance for you to know that do not unnecessarily complain about life. Also avoid revealing your depression and stress in front of her as this is regarded as a bad turnoff for Aries females.
Dating An Aries Man
Make the most of every moment like an Aries man does; this will help you live a life in tandem with a kind of a man who is full of life and energy.
Do not flatter an Aries man too much because Aries tend to exude ego messages. Doing so will consequently boomerang and land you up in an unwanted scenario.
Help and support him wherever and whenever possible. An Aries man always loves and enjoys the sweet taste of victory.
Be strong, energetic and charismatic, enough to avoid any sort of boredom creeping in and spoiling your dream of being with the man you've always fancied for.
Aries men like the docile personality in their women. This helps in maintaining their ego as Aries guys are usually chivalrous.
You need a great deal of patience while getting into a relationship with an Aries man. He can become extremely aggressive and display a childlike behavior when he suffers bouts of anger.
Rules and restrictions are the major things that annoy an Aries man; make sure you do not take him to places where there are too many dos and don'ts. For example, offering him an outing to a museum can greatly increase the chances of having a spoilt evening.
Avoid arguments with an Aries guy, for whatever opinions or viewpoints he provides are given with the belief that he has an insightful knowledge about the topic concerned. On the whole, Aries men tend to be short tempered and tend to give rash and impolite answers if you provide differing views.
Come up with new ideas and activities for recreation and pastime to keep him interested in you. This will not only help in having fun but will also help to keep the flame in your relationship burning.
Even though Aries men are short-tempered and cranky, you can win them with your high spirits, liveliness, and charm. Women, on the other hand, demand a lot of energy and power to be convinced. Whatever be the nature, approaching an Aries person isn't any rocket science. With these dating tips, turn your dream of bonding with that special someone into a reality.
Subscribe to Riddle Puddle