How To Make A Guy Jealous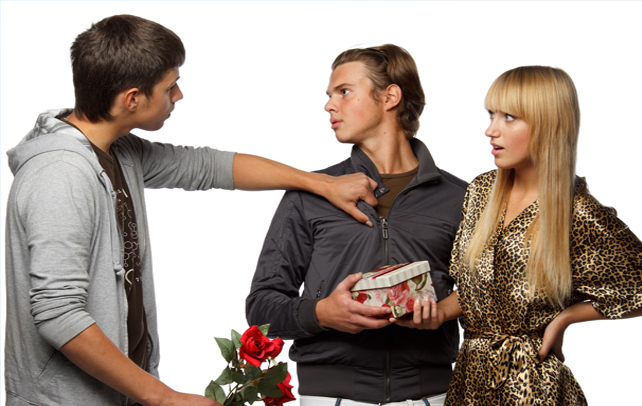 Subscribe to Riddle Puddle
Your husband used to give you a good-bye kiss before leaving for office. He used to give you frequent calls from office, just to hear your voice and tease you. You used to talk for long hours before going to sleep. But now those golden days of surprises and romance have faded away a bit. Your man now keeps himself busy in office and is always tired, whenever you want to spend some quality time with him. Have you thought of a solution to this problem? Are you planning to use jealousy as a weapon to get his attention back? Right choice! Jealousy is considered as the best weapon to pull somebody's attraction towards you. It reveals the sense of insecurity in men. Be a researcher and find out the best ways of inducing the sense of jealousy in him, but in a right way. Probably you are considering it as a fun-filled weapon to entice your partner, but a wrong step could hamper your relationship. Worried? Don't be, because we have some of the best and effective ideas to make your guy jealous. These tips are for both married as well as unmarried ladies. Read on and follow these ideas to get back those golden days.
Go For A Make-Over When was the last time you went for a hair-cut or a facial treatment? Probably, long time back. You have engaged yourself in the daily activities to such an extent that you probably ignore your looks.  A makeover will give you a new and refreshing look. Get a new and hot haircut along with a facial treatment. Buy some new and sexy dresses and get out of those baggy and odd clothes. Request any of your friends to call you and praise you when your guy arrives. These sudden changes will make him think, thus increasing the insecurity factor.
Pamper Yourself You always search for new ideas in order to pamper your guy. The ideas can vary from buying a present to preparing his favourite dish. What about you? Your guy now doesn't get time to pamper you. So, use these ideas for yourself. Spend the money on yourself. Move out on shopping and buy some beautiful accessories and clothes for you. Try the new outfits in front of a mirror when your guy is around. Prepare your favourite dishes and relish them when he is present. Now, he is definitely going to feel jealous after losing the gifts and affection that earlier belonged to him.
Keep Yourself Busy Ignorance is another idea for making someone jealous. Keep yourself busy and pretend as if you are ignoring him. Get into your hobby and start developing it. Take time to respond. Don't cook his favourite food and tell him that you don't get time to prepare such time-taking dishes. Ignore him when in a group. Let him come to a conclusion that now other persons and activities are more important for you. Insecurity and jealousy will take its toll and he will come to you for an answer or probably with an apology.
Talk About Other Guys Call any of your friends when your guy is around and talk about your colleague whom you met while shopping. Appreciate him as a person and tell your friend that you went for a coffee with him. But yes, don't over-react when talking about the guy over phone, whom you never met. Voila! You have succeeded in distracting him from reading the newspaper. Probably now his mind is crowded with questions. Is he jealous? Let him come forward and ask. You will get a hint.
Get Social Get out of the boundaries and start meeting people. Call them at your home or visit their homes. You can also plan a meeting at some beautiful places. Pretend that you are very happy with your friends and now you don't need his company for enjoying holidays. Stop asking him for a dinner, movie, or visits. Plan any of these with your friends over phone when your guy is around and don't ask him to come. He will feel jealous of your friends. And probably with an intension to cancel your meeting, he will ask you for a movie. Don't say yes. Let him work to gain your attention.
Play A Trick Time to play a trick! Play it on Valentines Day or the days when he is at home. Tell your friend to buy a bouquet or gift and send it to you without a card. Let him open the door to receive the gift. Did you notice an expression of shock on his face? Bravo, the trick has played its role! He will come to you with the gift. Show a smile on your face and keep the gift at your favourite place. Did the situation changed after this? Let's check. Wear a nice dress without makeup. Suddenly, he has started appreciating your beauty. All clear; you have succeeded and he is now ready to come closer. Similarly, if you are unmarried then try this trick when he is around.
Create Mystery Let's start with a call. Don't take his call immediately. Let him call 4-5 times and then call him back. Give vague answers to his questions. Don't be precise. Think a bit and then answer. When he calls to tell you about his late arrival, then be confident and just say alright to him. A sudden change in your behaviour will create mystery and he will start pondering. Probably he will leave the office early and pretend to surprise you with an early arrival.
These tips are definitely going to develop insecurity and jealousy in the guy whom you love a lot. But yes, remember to be in limits so that the trust in your relationship remains intact.
Subscribe to Riddle Puddle