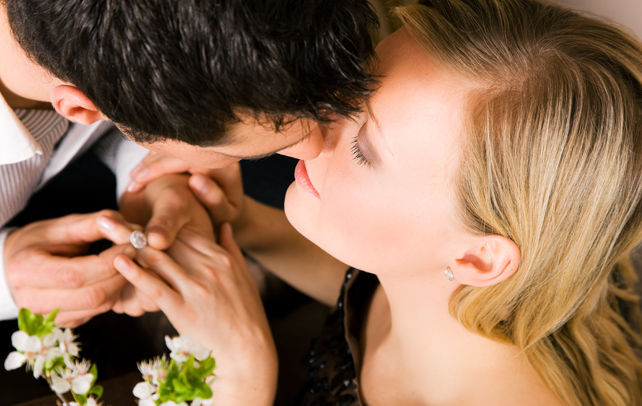 Subscribe to Riddle Puddle
How to Propose a Girl? Well, this has been one of the toughest questions for guys, even though there are hundreds of ways by which you can ask the big question. You just need to be yourself and a bit creative. Say the golden words in a unique way and unlock the key of happiness. Don't hurry! Spend some time thinking before popping out the question. To do it in a unique way you need to first gather some information about her likes and dislikes and then experiment with various ways of proposing her. There are many ways of proposing a girl. You can do it publicly, or privately. Another way is the 'funny way', which she will remember throughout her life and laugh about it. Don't know how to move ahead with these? No worries! Here we are presenting the best ways to propose a girl. Read on!
Public Proposal If you want the world to know that you are proposing to your girlfriend then you definitely should do it in public. But remember that your girl should not feel awkward or embarrassed. Do the necessary preparations and opt for the public proposal only if your girlfriend likes attention.
If you are a sports fan, you can make a public announcement in the scorecard during halftime.
Announcement on the radio is also a great idea. Buy some space and ask the host to announce it and play her favourite song.
You can also give the message through newspapers. Make sure that it's on the paper that she reads everyday.  Place the message in an attractive way.
A picture of two of you in a billboard with the words "Will you marry me?" can also be worked out.
An old and effective way of doing it is in a restaurant. Take her to her favourite restaurant. After having the meal, stand up and then bend down on your knees in front of all the guests to propose her.
Private proposals If your girl is shy and reserved then probably the idea of proposing in public would prove to be a flop show. On the other hand, if you also think that public proposals are too embarrassing then opt for proposing in private.
Visit a park and after a walk rest at a place where both of you are alone and then move ahead with your proposal.
Visit a cafeteria and sit at some corner place away from the regular crowd.  Don't order the regular coffee this time; browse the menu card and order the one introduced recently. Enjoy the flavour of the coffee and gradually move ahead with the words of proposal.
To make the moment more interesting and special do something creative before proposing. Make the setting romantic with candles, roses, and a nice song. Ask her to visit the place for some reason; such as, dinner, play, study or any other task that you enjoy together. Let her feel comfortable, then at the right moment, bend down on your knees and ask her to marry you. You can always add a little creativity like hiding the ring in a bouquet, chocolates, or a special gift; and ask her to open it.
Funny proposals If you wish to propose to your girl in a different and unforgettable way then try a funny way of doing it. You may get many ways of doing it, but it would be best if you do it in your own way using your creativity. You can use your experience with her to create a perfect proposal plan. Here are some great ideas that you can try:
If you are enjoying on a picnic then you could ask the skywriters to write your message in the sky or you can also hire a plane to put a "Marry me" message on the sky.
Get the ring embedded in a cake or her favourite food.
Write a poem or a song describing your feelings to her. Sing it in Bollywood style before her.
Buy an advertisement in the theatre and place your message in it.
Ask the cable guy to interrupt the video and place your message in it.
Do it online! Set up a web page that asks the question.
Some Points to Consider
Be original and don't overdo.
Make sure that your ring is of the correct size. If you are not sure about it ask her mom or friends.
"Down on one knee" is a classic way of proposing and shows the ultimate respect for the bride-to-be.
Avoid saying words like ' I think', 'I believe' etc. Be sure of what you say.
If you do not want any tension of planning the proposal, hire a proposal planner who will work out everything for you.
You can opt for any of the ways, but ensure that, it is the best one for both of you, and that's what really matters!
Subscribe to Riddle Puddle