Nice Things To Say To Your Girlfriend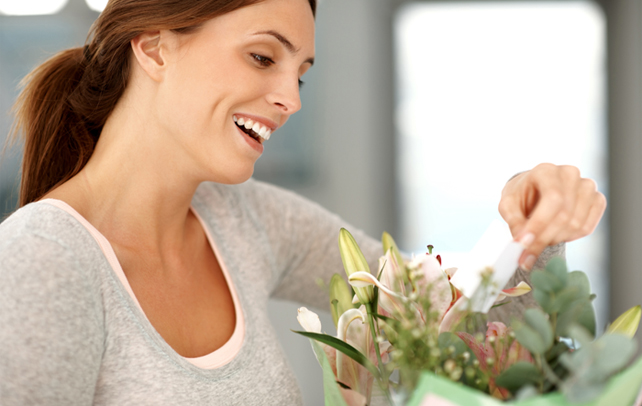 Subscribe to Riddle Puddle
Planning to propose to your girlfriend and utter those four little magical words – will you marry me? Well, to do it in the most expressive and romantic way that'll be etched in her heart for lifelong, you need to pump up yourself and gather all the energies. While it is easy for some guys to hold their gal's hand and lay the proposal, some often tend to step back and shiver at the very thought of confessing their true love for her. However, lauding your girlfriend with some sweet and nice compliments can make that track a little smoother. Besides using these romantic comments, you can make the most of such compliments to praise her, uplift her mood, bring a smile on her face, delight her, and, not to forget, win her heart. What's more, these romantic gestures can charm your girl and take your relationship a step further. Listed in the lines below is a set of some really nice and romantic things to say to your girlfriend and impress her to the core. Pick your set of favorites!
Nice Things To Say To Your Girlfriend
Every time I look into your beautiful eyes, I melt and fall in love with you again and again and again.
When we are apart, I'm only half the man I want to be.
I love the way your hair feels as I run my fingers through them.
Paradise exists when I'm in your arms.
A hundred hearts would be too few to carry all my love for you.
I don't know what I would do without you in my life.
You make me feel weak in the knees when I touch you.
I can sit beside you and watch you sleep all my life, you are just so lovely!
I can stay awake all my life, just to be the first one to kiss you every morning and see you smile!
You are the reason why I find this world beautiful.
Time will progress and so will your age but my love for you will always remain intact.
I'll be there till the stars don't shine, till the heavens burst and the words don't rhyme, I know when I die, you'll be on my mind, and I'll love you, Always...
Listening to your heartbeats is a pleasure.
I could stare at you forever and I'd still feel like I haven't had enough of you.
You make my sadness disappear with your beautiful smile.
I love the way you feel in my arms when I hug you goodbye.
I know we have our share of ups and downs. Sometimes I bug you, sometimes you annoy me. I crib, nag, demand. You and your monosyllabic replies! But I'd feel weird if these things did not happen. They define the bond that we share.
Your cute smile makes me melt.
I love the way your skin feels so soft when I run my hands over it.
Your eyes are so expressive and beautiful I can't help but get lost in them.
I think God was high when he created you because there's no one else who comes so close to perfection.
I love the way you say you love me when I kiss you goodnight over the phone.
I start my day with you on my mind and end my day with you in my dreams.
They say a picture tells 1,000 words but when I see yours all I see is 3: I...love...you
You are my bestfriend, my shoulder to lean on, the one person I know I can count on, you're the love of my life, you're my one and only, you're my everything.
Without you, a moment seems to last a thousand years.
You fill up my senses, like a night in the forest...
When our eyes meet in a crowded place, I feel this warm smile spreading over my face. I don't want to smile, but I do involuntarily. It's like nothing in this world matters more than that one look.
If I had to choose between breathing and loving you, I would use my last breath to say, I love you.
Knowing you has changed my world and nothing in it will ever be the same again.
Your love has taught me how to dream when I'm awake.
I love us for how random, crazy, retarded, and so perfectly in sync we are! Nobody gets me the way you do. I don't care what people think or say, as long as I'm with you! 6 days, 6 months or 6 years, the butterflies in my stomach are here to stay!
You showed me how much love I have to give. Now you get to take it all!
When I think of you, everything's suddenly alright.
Yes, being with you can sometimes be as annoying as having a scar that just won't go away. But I'd really rather have that scar. Because I know that without the scar, I'd be incomplete, unfinished.
I think of you and kiss my pillow before I fall asleep every night.
You make me feel so happy when I'm with you, my jaws hurt.
Last night I looked up into the stars and matched each one with a reason why I love you. I was doing great untill I ran out of stars.
Watching your smile or hearing you talk makes my heart go boom boom.
Whenever you are away, I miss your smile the most.
You are the reason why I find this world beautiful.
I don't mind you laughing and being happy around a hundred other people as long as mine is the only shoulder you look for when the tears well up. I don't want anyone else to see you vulnerable.
Add in some sense to your nonsense by expressing your emotions and thoughts of love to your beloved by incorporating these nice things in your conversation. Let these words, right from your heart, reach her heart, while cuddling up together! Good luck!
Subscribe to Riddle Puddle