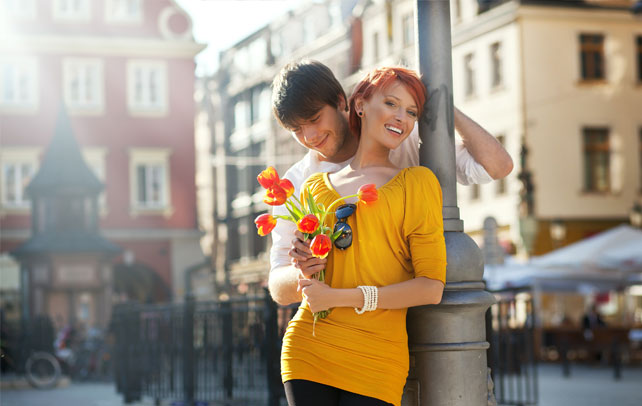 Subscribe to Riddle Puddle
Impressions, especially the first one, last for a longer time than you think. Worried, are you? Well, to be honest, when it comes to dating, you should be, at least a little, or you may go flying off the handle and make a fool of yourself. Buckle yourself and take respite from the fact that even though impressions last, perceptions do change. However, to be on the safer side, it's advisable that you try to strum both the chords, at the right note. The metaphorical guitar of your personality may need some fine tuning, but once it is done, there will be no stopping you sounding like an immaculate symphony: easy on the ears and deep to the heart. In the section below, we have mentioned some tips to help you tune yourself to the finest. Go through them, absorb, take a deep breath, and unleash the charm. There will be no stopping you now! 
Impressing Your Date 
Impressions will start to leave their mark the moment you ask the other person out for a date. It's your first date; invite your partner for a good movie, a nice dinner at an elegant restaurant, or an outing in the park. Keep off from bars and alcohol on the first date.
If you are a guy, be chivalrous—open the door, bring flowers, pull the chair, pay the bill, talk gently, pay attention, and keep her away from any harm. If you are a girl, be polite—say 'thank you'; say 'how lovely'; offer to pay; pay attention; talk gently; and look all pretty, radiant, and well dressed.
Kill your evil twin. Speak and appear on the date just as you are! There's a fine line between impressing and being corny, and remember that you are going for the former. Just be yourself and don't go off impersonating someone who is deemed as an emperor in your mind. Your pretences and overzealous need to impress will easily be caught. Don't let it be the case!
Dress to your best! When you enter the place and smile at your date, there will be no telepathic communication (sorry to break the glass). The first thing that he or she is going to notice is the way you are dressed. Don't be flashy; wear something that enhances your personality and most of all—dress to the occasion. Not over, not under, but 'To the Occasion'.
Laughter is the best medicine! It also works as a soothing muscle relaxer and calms the nervous jitters. To get off to a flying start, when the moment seeps in, it will help if you can tell some humorous anecdotes from your past that seem amusing, and at the same time don't make you look like a loon. Be a hoot instead, and a pleasant one at that. Stay away from racist, banal, and rude jokes!
Converse! A silent date is an awkward date that may lead to no more dates. Whenever there is a lull, try to fill it with some good ice-breakers, say a quote or something. Improvise, but stay in your limits! Don't rub your opinions on your date's face and don't complain about everything. It is just your first together! Just listen intently, and talk nicely; don't let go of the chance to know and explore each other.
Picking on from where we left off; when exploring each other, don't be intrusive or go off asking questions that are personal, after all it's only your first date. Whatever your date talks about: hobbies, career, dreams, interests, and opinions; make your date feel good and comfortable. Hand in a piece of appreciation whenever it's needed!
Now that you have read how to impress a date, bring on the charm and make your next date an experience to remember. Have a good one!
Subscribe to Riddle Puddle