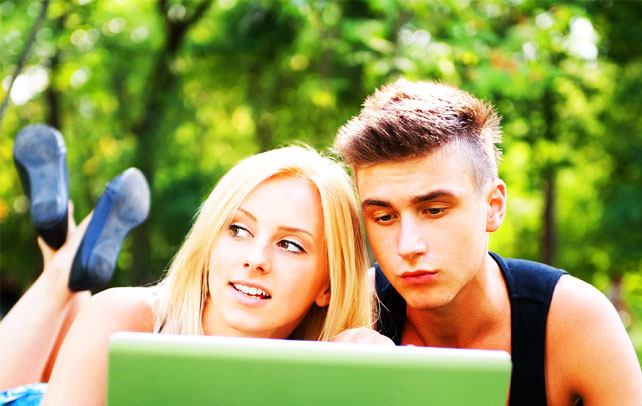 Subscribe to Riddle Puddle
One of the basic and most interesting activities among today's youth is 'flirting'. Today's generation consider it as an easy technique to find compatibility with the people they meet. Now-a-days, flirting has become a trend among youth and it strikes first in their mind when they see any girl. There are guys who make girls crazy with their style, communication, and confidence whereas some others find great difficulty in making their first move. Flirting is no less than an art. For those who find girls an unsolvable mathematical puzzle, we have discovered some very basic yet effective ways to optimize their love equation. A balanced and planned approach in flirting would give you pleasure as well as help to find your future soul mate. Read out the next subsection of this article to get some best tips on flirting with a girl.
Tips On Flirting With A Girl
Eye Contact The way you present yourself before a girl is a decisive factor in developing her interest in you. Most important one is the eye to eye contact you make. When you look straight into someone's eyes during conversation it depicts stability in your thoughts and admirable self-confidence. It also reflects the comfort you find in meeting others. By making eye contact with the girl you can impress her by your confidence apart observing her instant reaction.
Wear The Smile The great comedian Charlie Chaplin once said "You'll find that life is still worthwhile, if you just smile." It is true in the case of flirting, love, and relationship. You don't need to laugh all the time but to have a gentle smile all the time is a good way to flirt flawlessly. The delicacy of your smile would increase the face value while leaving a long lasting impression in the girl's mind.
Look Confident And Responsible Most of the girls like guys who are full of confidence, courage, and are capable of bearing responsibilities. You can get many opportunities to show a matured and accountable man residing within you. This would act as a magnet attracting that charming girl with whom you want to flirt.
Exhibit Your Charisma Mind it guys! Girls are different from you. You can not get them by a gaudy appearance. It is the real you and your intellect that can bring her in your life. The central theme is 'Be Yourself'. If you try to depict a very ideal figure (which you are actually not!) you will suffer from low self-confidence which will reflect from your body language. Say a strict No-No to such scenarios. Peep into yourself and find that charisma which differentiates you from others.
Add A Pinch Of Mysteriousness Yes, this is the point to be remembered. Most of the girls like to talk about themselves. When they throw a question at you, reply mysteriously even to their simplest query; it would drive them crazy. Girls like to explore and to be explored. If you let them make a handful of efforts to know you, they will find it terrifically electrifying. But beware; too much secrecy would drive them away. So make a fine balance of the two and enjoy flirting.
Friendly Touch It is a cautious move. If you are confident to carry on the tip then only go for it. Friendly touches are the ones which are required and are often not resisted. Touch her hands gently while talking to her or laughing at a joke of hers. Better not to look at the hand while touching it. She can repel it!
Listen To Her Very important aspect of succeeding in the communication is to listen carefully and attentively. It becomes more important when conversing with a girl. It is important from the perspective of mannerism also. If you keep on blowing your own trumpet without focussing on what she has in her bags to share, you will be at a loss. Let her speak and respond properly.
Compliment Her Whether it's your first meeting or a part of your daily routine, compliment her. Do not make compliments just for the sake of it but only when you find something really appealing. Remember, all girls are capable of detecting the lie.
Take It As A Fun Activity Last but not the least, flirting is not a speech delivery at President's House. So, take it easy and enjoy it with full energy. If you become too serious and cautious on the way then your partner will feel conscious. On the other hand, delicate flirting is refreshing and can help take the relationship to next level.
To sum up, flirting needs good sense of humour, sensitive brain, and living heart. Flirting, if done sensibly, can help strengthen the bond between the two of you.
Subscribe to Riddle Puddle