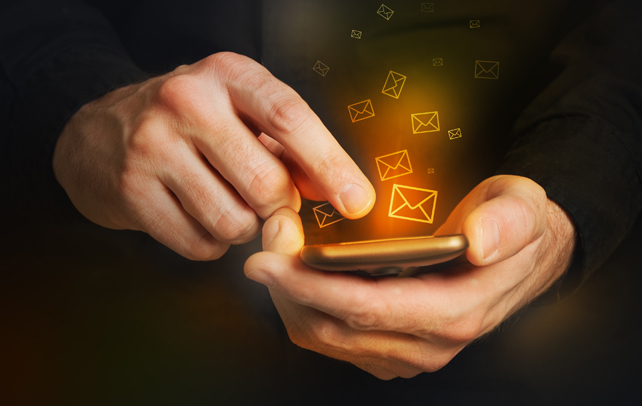 Subscribe to Riddle Puddle
Telephone instruments are fables of the yore! Today, cell phones have become instrumental (pun intended) in bridging the gap between lovers, whatever may the hour be. Calling is not possible at every moment. Sometimes, people are too busy to attend a call. Still, to stop the caller from fretting over multiple possibilities, technology broke through, or was made to. Texting, or Messaging or SMSing, as it is known according to the modern lingo, was invented and viola: Caller became the sender. Can't get through to your darling? Text instead! It's easy, it's quick, and it's convenient. Whenever the time permits, reply will come. Don't have balance to talk for long hours? Text Instead! It's cheap (sometimes free, considering what plan you have), it's quick, it's convenient. Now, time apart from each other isn't as hurtful as it used to be. Sure, negatives are there but isn't everyone bickering about seeing the sunny side? See it then, and make the best use of what you have got. Romance via texting! However, if you are fresh at the relationship and feel light-headed on deciding what to text to your sweetheart, read through the lines that follow next. For they contain romantic text messages to send to your partner in crime. In romance, we mean.
Romantic SMS
If love is a disease then I'm very ill, but I don't want medicine, I won't take no pill, I will suffer this illness coz it makes me see exactly how much you mean 2 me!
There are Tulips in my garden, there are Tulips in the park, but nothing is more beautiful than our two lips meeting in the dark!
I believe that God above, created you for me to love, He picked you out from all the rest, coz He knew I'd love you the best!
There are 3 steps to happy happiness, 1 - you, 2 - me, 3 - our hearts, 4 - eternity!
Why do I text you? It's my choice. It's my way of saying I remember you. Why do I remember you? It's my choice. It proves that I care. Why do I care? Don't know, it's not my choice but my heart's.
If had the letters "HRT", I can add "EA" to get a "HEART" or a "U" and get "HURT". But I'd rather choose "U" and get "HURT" than have a "HEART" without "U".
Love is patient, love is kind. It does not envy, it does not boast. It's not rude, nor self-seeking. It always protects, always trusts, always hopes, and always perseveres.
Last night I matched each star with a reason for loving you. I was doing great until I ran out of stars.
Love is like a cloud, Love is like a dream, Love is one word and everything between. Love is a fairytale that came true, because I found love when I saw you.
If loving you is wrong, then I don't want to be right. My love for you is so strong, that its brighter than light. Then we must go is long, But we will win every fight.
Accidents do happen. I slip, I trip, I stumble, I fall and I don't care at all. But now I don't know what to do, because I slipped and fell in love with you.
Doubt that life is but a dice, Doubt that the sun doesn't rise, Doubt that the world is bitter with full of vice, But never doubt that I love you.
If roses were black and violets were brown, my love for you would never be found. But roses are red and violets are blue, all I want to say is, I love you.
I would never be tired of you even if I am with you all day long. In fact I grow to like you a little more every day. I love you.
I have sent you this sms to tell you that I am thinking about you. I hope that this 1 minute of messaging will help convey my 1 lifetime of love.
You know I wish I can be with you every day for 8 days a week and 25 hrs a day. I never seem to get enough of you.
All day long, I hear people talking out loud. But when you talk to me, your sweet voice drowns out the crowd! I miss you.
If you were to check my cell phone one day, you will realise that yours will be the one and only name that appears in my inbox, sent messages and dialled numbers folder. Because anything associated with you, is just too precious to be deleted away.
Words may not be yours but feelings are. Choose as many texts as you like or taking the gist, create some of your own. Have a love filled time with it!
Subscribe to Riddle Puddle