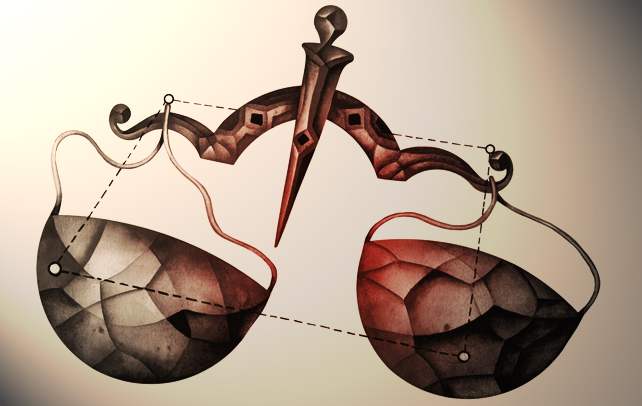 Subscribe to Riddle Puddle
You are impressed with the way one of your friends deals in different situations. S/he enjoys being social and knows how to fill a gap when required. His/her charm and balancing attitude reflect the warm and supportive character. This friend of yours is always there to help you out in family and other social matters. All these characteristics attract you towards him/her and now after a long thought, you are planning to date him/her in order to express your feelings.  Probably you are also thinking to give a beautiful experience to your partner while on a date. It's always advised to get an initial idea about his/her personality traits to make it a perfect date. And the best indicators of someone's personality are the zodiac signs. So, why not take the help of zodiac signs? Do you know his/her zodiac sign? Libra? Perfect! The above description says it. Well yes, Librans are known as the team players who see almost all the facets of life understanding every one's view point. Having good sense of arts and music, they are bestowed with an inclination towards openness and generosity. They usually make an extra effort to make their love life and relationship successful. Astrologers consider them to be embraced with the most sought out traits and behaviour patterns. Dating such a perfect human being is not an easy task, but not an impossible one too. Proper planning and due diligence would make your Libran friend forever yours. So now, as we are well aware of your partner's personality traits, let us check out some tips to make him/her feel special on a date. The next subsection is devoted to this purpose. Have a glance.
Dating A Libran Male
A bit of your intelligence can make him all yours forever. Just stick to sweetness and decency. Following are the points which you are supposed to remember while planning a date with Libra male.
Do dress up for the occasion as you dress up for any important event of your life. Do not be vulgar. Reflect your persona with your dressing sense and take him to the world of fantasy with your appearance and body language. He'll really appreciate your style for this.
Librans enjoy analysing situations and filling the gaps wherever required. They love to engage themselves in personal, social and work related issues. So, ask for their advices on personal and social matters. Believe it, they can be the best of advisors on a variety issues
Have an open discussion but try not to be belligerent with him. Always remember Libran males do not like clashes of opinions. So, discuss those things which you both are comfortable to talk about.
Keep in mind not to discuss about your past love life, if any. He might also not be interested in detailed information about your family members. Identify his areas of interest by his responses.
Librans like to go along the latest trend. Utilize it on your date. You can talk about the latest movie, paintings you have drawn or seen, and the recent texture of your room.
Be fair with them and ready to face their indecisiveness as they are superficial and unable to make up their mind.
Libran males are most compatible with Taurus, Gemini, Leo, Aquarius and Pisces. If you are one of them, just be original and he will be yours forever.
 Dating A Libran Female
Handle her charm and elegance with care and she will be all yours. Here's a list of most important things to keep in mind while going for a date with Libran lady.
A Libran female likes to be pampered and to be caressed. The key to win her heart is to present her with scented fresh flowers, card, and small gifts.
Most of the Libran females like to flirt with their male counterparts. Welcome her and respond to her gimmicks romantically. She will really enjoy it.
Romance and emotional knots are important to have her in your life. An absence of emotional connect will take her away.
She will adore you more for the way you caress and treat her. It's important for her to be appreciated for the homework she did before coming to meet you.
As the time passes, it may happen that at a stable stage of your relationship she will stop her alluring behaviour. Do not feel it's the end of relation. Just give her some time; she will reset her mood and will regain her charm and thoughts as before.
Find creative ways to express your feelings. Use poetry, write small love notes, send flowers, and give her sweet surprises occasionally to keep the relationship fresh.
Aries, Taurus, Gemini, Aquarius and Pisces make a good match for Libran females. Being one of them would be an added advantage for you.
To sum up, a Libran is easy-going, diplomat and indecisive person. Do involve in a relationship with him/her carefully and with open thinking. Romance and communication is the key to win his/her heart.
Subscribe to Riddle Puddle