Romantic Love Lines For Him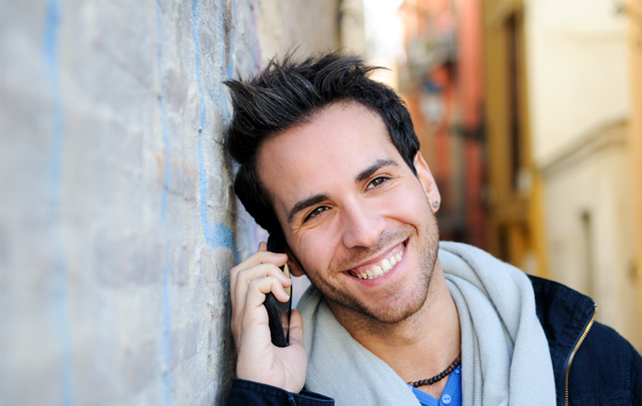 Subscribe to Riddle Puddle
Have you been smitten by the stupid Cupid recently? Has the world started revolving around you? Do you feel like flying in the air for long distances? Do you desire him to be around you for every moment you breathe? Well, the Cupid has hit you, and it has hit you hard. All that you need to do now is to speak out those three magical words. And what can be better than uttering some simple heartfelt words to confess your love and let him know you love him. Guys, too, love to be swept off their feet just as much as women do. Then, why not make those romantic moments all the more sweet by putting cute, loving and sweet words together into the right phrase and speaking out your heart. Since this heavenly feeling cannot be seen or heard, but only felt with the heart, you need the right words to convey it to the other side. And in case you have no clue about penning beautiful lines for your beloved to bring that blissful smile on his face, the following lines will assist you in creating that much-desired romantic aura between you both. Find some really affectionate and romantic love lines to express your feelings for that someone special, in the segment below.
Romantic Love Lines For Him
You remind me of a compass because I'd be lost without you.

I would like to rearrange the alphabet, and put U and I together.

Something happened to me. It was the sweetest thing that ever could be; it was a fantasy a dream come true; It was the day I met you!

My love for you is a journey starting at forever and ending at never…

I knew I loved you when I realized that there was no one else I would rather laugh, cry and make memories with.

Last night I hugged my pillow and dreamt of you... I wish that someday I'd dream about my pillow and I'd be hugging you.

I could conquer the world with just one hand as long as you were holding the other.

They say 'love never dies'. I say 'it is your love that will always keep me alive, even when I am not there in this world anymore'.

I never knew how to live, until I knew how to love…you!

Someday when the pages of my life end, I know that you will be one of its most beautiful chapters.

If it is wrong to love you, then my heart just won't let me be right…

Love me when I least deserve it, because that is when I really need it…

You are my life. You are the only thing it would hurt to lose…

Never ever go away from me. I will not say that 'I will die without you', but I will surely say that 'I would never again live without you'.

Last night, I looked up into the stars and matched each one with a reason why I love you. I was doing great until I ran out of stars.

Wherever you go, whatever you do, I will be right here waiting for you. Whatever it takes, or how my heart breaks, I will be right here waiting for you.

I love you. You annoy me more than I ever thought possible, but… I want to spend every irritating minute with you.

I love you, not only for what you are, but for what I am when I am with you. I love you, not only for what you have made of yourself but for what you are making of me.

Come, let us make love deathless.

My heart to you is given; do give yours to me; we'll lock them up together, and throw away the key.

I made a wish and *you* came true.

My night has become a sunny dawn because of you.

I don't care if we talk about absolutely nothing, I just want to talk to you.

I admit that I get jealous when you are talking to someone else instead of me.

I love thee to the depth and breadth and height my soul can reach.

If I had a flower for every time I thought of you, I could walk in my garden forever.

Your words are my food, your breath my wine. You are everything to me.

If you live to be a hundred, I want to be a hundred minus one day so I never have to live without you…

I love you not because of anything you have, but because of something that I feel when I'm near you.

There's nothing I would rather do than live my life in love with you... I love you - with all my heart, for all my life.

Somewhere between laughing for no reason, stupid arguments, and making fun of each other, I fell in love with you.

I don't ask for much. Just promise you'll stay by my side.

My love for you can never dilute. Off course, I can't help that it'll die with me when I die.

Regardless, there will always be a part of me that loves you no matter what you do or what changes.

I have always wanted to know how it feels to be flying in the air, and loving you has given me this feeling. Thanks for being there always.

As we grow older together, As we continue to change with age, There is one thing that will never change... I will always keep falling in love with you.

The most beautiful view is the one I share with you.

I love you without reason and that is reason enough.

Love is what happened when I met you. Life is what happened when you loved me!

 
Let the love of your life know that you emote the same feelings through these romantic love lines. Hope you'll be able to etch a permanent place for yourself in his heart! Good luck!
Subscribe to Riddle Puddle