Things To Say To Someone You Love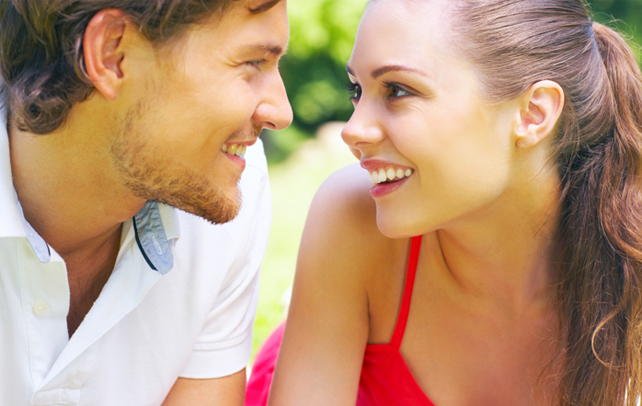 Subscribe to Riddle Puddle
The good thing is that you are in complete love with your partner and he/she knows it. But the bad thing is that you find it difficult to convey different feelings through words. While your sweetheart is assured of the fact that you love him/her deeply, making small romantic gestures, on and off, can do wonders to your relationship. However, you do not have to directly speak out your heart; a few ideal words and phrases can warm up your lover's heart and bring you two closer. With a little inspiration drawn from the daily love quotes and phrases, you can spice up your romance and melt into one another's arms. A glance through the following lines will assist you in saying several things to the one you love endearingly and passionately. Read on.
Things To Say To Someone You Love
The three magical words "I love you", though simple and direct, but go a long way in telling your sweetheart that he/she is very special to you and that you care for him/her.

To make the above statement more powerful and meaningful, say "I love you" and add "because…" giving a reason along. Stating a reason for your love towards your sweetie will let him/her know that you are sincere about your relationship.

Besides throwing out the standard "I love you" phrase, you can proclaim your love with "I love your.…", adding a specific compliment to charm your beloved.

You can start a statement with "I fell in love with you when…", filling the blank with the most attractive trait about your partner. This will remind both of you of the sweet times you spent together in the past, thereby rekindling your romance.

Despite being short, "You're the one" is a sweet and romantic statement, declaring your love for your darling.

Even though you both may be committed or married, but using the statement "I look forward to growing old with you" ensures that you'll continue to love your partner till your last breath.

"You bring out the best in me" will make a good impact on your partner, ensuring that he/she plays a significant role in your life and you'll never get over him/her with the passage of time. Besides, it can infuse in happiness and provide strength to your relationship.

Wanna touch the heartstrings of your better half? "I am so lucky to be married to you" is bound to let your darling know that he/she is a blessing to you and you're lucky to share your life with him/her.

"You make me whole" communicates to your beloved that you are incomplete without him/her; hence, you have no desires to separate from him/her.

To engrave the moments you both have or are spending together into golden memories, you can tell your lover "No matter what happens in my life, I will always cherish you and remember this amazing time we're having together".

"I love you more than yesterday, but less than tomorrow" can assure your partner of your deep and intense love for him/her.

"I can conquer the world with just one hand as long as you are holding the other" is sure to provide inspiration and strength, particularly during weak moments and in times of difficulties.

"I feel safe with you" offers your true and genuine feelings of security and certainty. Expressing this sweet phrase to your lover shows that you see him as a strong and supportive individual who'll never let you down and make you feel completely secure.

"You look beautiful today, just like everyday" will bring a charming and shyful smile on your baby's face. Such a compliment makes a powerful love statement for partners to find each other attractive, constantly.

Uttering the phrase "I'm a better man when I'm with you" will instantly melt your girl's heart and take you a step closer towards her. You can further elaborate this line to praise and compliment your woman.

"They say a picture says 1000 words but when I see yours, all I see is three, I Love You!" is yet another meaningful statement to tell your sweetheart.

To make your romantic night all the more intimate, you can use "I wish I could hold you forever".
Other Romantic and Thoughtful Things to Say
You always know the right thing to say to make me smile.

I just want to wrap my arms around you, and let the world drift away.

My life is so much richer because I have you in it.

Every day I'm with you, my love for you gets stronger. I can't wait until tomorrow.

I used to dream about finding the love of my life, and here you are.

When I see someone else admiring you, it makes my heart swell with pride to know that you're mine.

The word "love" just isn't big enough to describe my feelings for you.

When I'm alone, I think of so many things to say to you, but when I have a chance to tell you, I go speechless.

I think you were made to fit perfectly in my arms.

It is so nice having you next me. It's like a dream come true.

I love going out with you. It gives me a chance to show you off.

I can't stop gazing into your captivating eyes.

I'm my best self when I'm with you.

You make every day feel like Valentine's Day.

You're just like a fine wine... My eyes could drink you in all night.

Within you a lose myself, without you I find myself wanting to be lost again.

I cannot imagine my life without you being a part of it.

I am entirely yours, that if I might have all the world given to me, I could not be happy but in your love.

 
With these powerful notes and lines, you can put your emotions into words and convey the depth of your love to your sweetheart. Do not wait further, and etch a permanent place in his/her heart!
Subscribe to Riddle Puddle