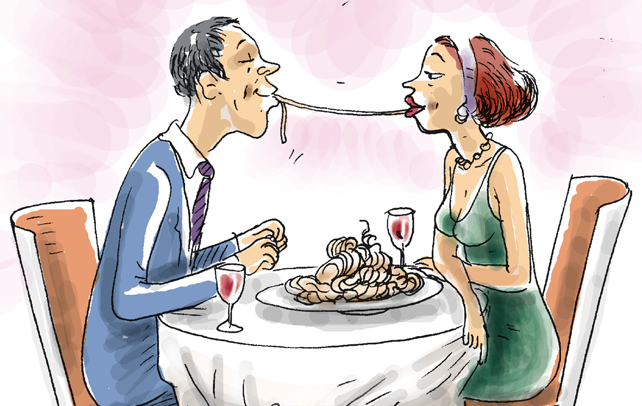 Subscribe to Riddle Puddle
How many days have passed since you went for a date with your spouse? You don't remember! Disappointing, isn't it? Well, probably this is the case with every husband and wife. Responsibilities surround them and it becomes hard to come out of this circle. Couples get occupied with various responsibilities; such as, jobs, parenting, house chores and, many other commitments. They rarely get time to share and cherish some moments together. It seems that your life which used to be interesting and full of enjoyment during the courtship period has now become dull and monotonous. Do you always think of getting a time machine or a genie that can take back to those wonderful times? Well, this is not the wonderland ofAlice, but a real world. Be the superhero or superwoman of your spouse and take both of you out of this muddle. Unravel your creative and innovative skills and plan for a date with your spouse which would take your spouse back to those romantic days when both of you were like free birds. If you are confused about your thoughts and ideas then let us help you. Following sub-section will introduce you with some of the best tips that you should consider when planning for a date with your spouse. Read on.
Tips On Dating Your Spouse 
Before marriage, did you take classes of your husband's favourite cuisines? You prepared the food for him which was tempting and your husband loved it! Since then he has been asking you to prepare the tempting food again, but you never get time. Hey, this is the time to plan a surprise. Be the special chef again and prepare the food which you learnt especially for him. After serving the food to your family, arrange the special food for your husband in your bedroom or on terrace with soft music in background.
Another surprise in line! Reaching late at home is a part of our daily routine. But this time make a change and come home early. It's good if your spouse is out at his/her job, otherwise make a plan and keep him/her away from home for a certain period of time. Utilize this time and decorate your house the way your spouse wishes; make it bit romantic with soft lights, flowers, etc. Your spouse will be surprised with this change.
Do you have kids, and the thought of leaving them alone worries you a lot? This is one of the major reasons why you are not able to go for a date with your spouse. Don't be over-protective! If you have elders at home, leave the kid under their care. And unluckily, if there are no elders at home then leave them under the care of a nanny.
So, finally you have made it and now you and your spouse are sitting opposite to each other with a romantic atmosphere. Hey, hey, don't discuss about your daily routine office works and household tasks. Just think of each other while looking into the eyes of your loved ones and feel the romance around you.
You can gift something really precious to your spouse, which is treasured by him/her immensely. Later, surprise them by taking them out for some live concerts or performances which they would love to go for. At the end, take your spouse to the place where both of you dated for the first time. Relive the memories of all the good times that you shared during your courtship period.
Compliment is another key to a successful date. It has been a long time when you both went to an outing together. And this is the reason why you are not able to compliment your spouse as you did earlier. But now as you are going for a date so don't keep your feelings in your heart and compliment your spouse on his/her look and attire.
These are some of the ways in which you can date your spouse and make it memorable by your own efforts. Enjoy your family life along with some memorable moments with your spouse.
Subscribe to Riddle Puddle