Romantic Winter Date Ideas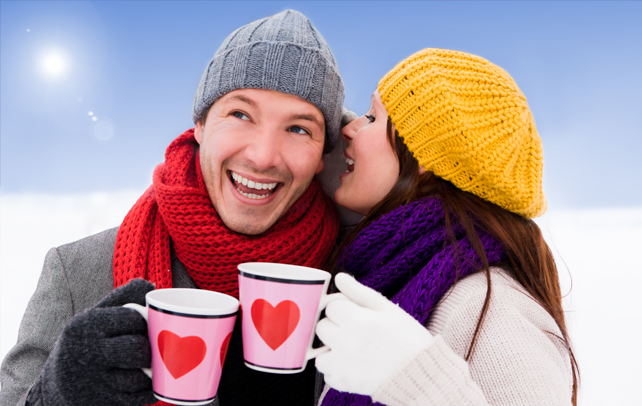 Subscribe to Riddle Puddle
Warm blankets, cold nights, foggy days and presence of your beloved can make the winter all exciting and damn romantic. Spend your days enjoying fire fighting against the low atmospheric temperature, making you warm enough. Most of the times it's the fog which takes control of sunshine and we almost miss sunrays come our way. These are the days when people like to be in their house early rather than roaming around the town. The love birds too get bored of the same lunch-movie-dinner routine as they do not have options like visiting water parks that they get in the summer season. But then, there are several other creative ideas for winter too, when love and romance can be experienced at its peak. Here, we are presenting you some of the dazzling and fantabulous ideas for romantic dates. This winter, embrace your love by implementing our suggestions. Believe it! Your partner will never forget the great experience and will even love you more for making her/his wintry weather all warmly delightful and memorable.
Romantic Winter Date Ideas
Go Snowboarding If you are lucky enough to live in a hilly area or if it's easy for you to drive to some hill station in the vicinity of your home, then do go for snowboarding this year with your love. Make sure that you witness the golden moment of snowfall which will create an even more romantic setting. Give a try to skiing too and let adventure take the both of you to the new heights of love and romance.
Make Snowman If you can manage to, go for it. Making the snowman at places where temperature tends to be very low, and where you are surrounded by ice as far your eyes can visualise, can be very romantic in its own way. But then, it depends upon the mood and liking of the both of you. However, it is up to you whether you would prefer to make an extra effort of collecting the chilled snow, getting wet in making snowman or spend your days in cosy bed. You can also go for an even more romantic idea: making future house of the two of you with ice, integrating your imagination in it.
Enjoy Fire Together One of the best ways to fight against cold wintry weather is to get warm by taking heat from fire. What can be more appealing and romantic than having your partner with you at the onset of fire? So, take your partner with you, get wrapped in blanket and light the fire.
Tour To Scary House At the very inner core of our hearts, no matter how daring we are, many of us look for shelter against superstitious things when we know there is a protectionist to protect us. The same goes true when a couple visits a scary house or other such place where it is their own imagination making them fearful of the mirages coming to their way. Have a search over your nearby area and take your partner to such place where romance will flow when your partner would bury her face in your chest. Wouldn't you like to try it?
Head To The Local Market Explore the local market in your area with your partner this winter and gift her/him something cute and rare to find. You can also do shopping for your kitchen and prepare delicious food at home. It will also help you gain an insight into the likes and dislikes of your partner. So do not miss the chance and plan for it now!
Enjoy Movies At Home It can be a relaxing as well as comforting activity for both of you if you like to dwell within home, spending winters, without getting distracting by the external world. Make your living room as home theatre, have a bowl full of popcorns and get ready for the most romantic movies. The two of you can spend quality time cuddled up on a couch, spicing up the warmth in the chill.
Visit Your Favourite Spots This is the benefit of winters that most of the people like to stay back in their homes rather than roaming around the town. Actually, this can be the best time for you to take your significant other to the places of your preference and enjoy the scenic beauty, taking advantage of the cold weather. And yes, you should also use this time to visit your partner's favourite places too.
Romantic Weekend Retreat Last, but not the least, invite him/her for a romantic weekend retreat where it's only the two of you loving and cuddling each other. Take some time out of your busy schedule and plan for it in as much personalised way as possible for you. Arrange for everything in advance so that there are no last minute hiccups.
Winter is the season when feeling of love penetrates into our lives. Be a bit more youthful, pleasant and passionate and embrace what treasures winter has in its bucket for you. Happy dating in ice-cold winters!
Subscribe to Riddle Puddle