Romantic Dinner Ideas For Couples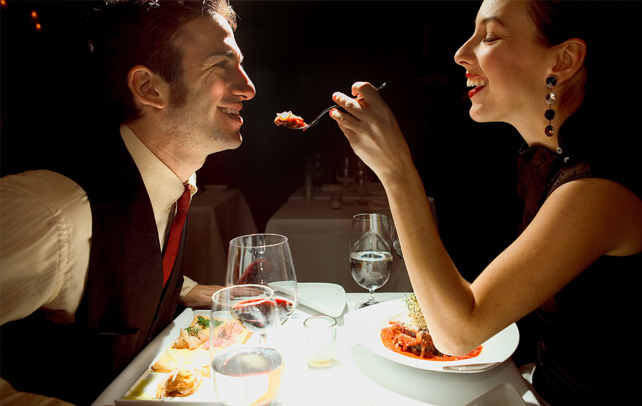 Subscribe to Riddle Puddle
So it is official now, you will be having a romantic dinner date with your partner and the responsibilities of arranging it are on you. Well now it doesn't seems that easy as it sounded before; as you are bustled with questions, such as, where to go, what to order, how to go about it and so on. Now, after much panicking and googling for the ideas, you have finally landed up on this article. If it's any consolation, and to tell you frankly, it isn't that difficult as you seem to have made it. It is just that you need to know what your date's taste in food is, as after all, dinner is about having food together and reminisce about different things. For further assistance we are providing you with a few ideas which will definitely reduce your worries. So meet your date with a free mind and have a great time dining.
Romantic Dinner Ideas For Couples
Setting Up Cuisine First of all, it is really necessary that you decide the cuisine even before planning a date. Setting of the place and other such things are secondary but food is what a dinner is about. So think of a cuisine which suits the taste of both of you. Decide on it beforehand and then search for a restaurant if you are planning to have the dinner out. What is it that you think your date will prefer: Chinese, Italian, Thai, Indian, Japanese, and so on? Go to the restaurant and have food there to be satisfied about the quality and the taste of the food; don't rely on food guides and suggestions of a colleague. If you are thinking of having the dinner on the terrace then prepare an ambiance accordingly, and if possible, according to the cuisine.
Fancy And Expensive If you are not able to find out any good hotel in close proximity and are not even sure about the kind of food served at the hotels, then your best bet will be taking your date to an expensive and fancy restaurant. Themed restaurants and the ones where performers play quiet music are among the current favourite genre of restaurants. Floating restaurants too, amidst a water body, can be considered. Now we know that love comes without a price tag but, your date will surely be delighted if you will take her to a nice restaurant. Everyone likes to have a dinner at an expensive restaurant and the ambiance usually adds on to the experience. Also, when your date sees that you are spending a lot, the direct connection is with how serious you are about the relationship.
Make It An Exotic One If you think that you can really carry off an exotic dinner date then surely go for it. But keep in mind that your date too should be sport enough to be open to your invitation. One such idea could be going for an open air dinner date. There are some restaurants which offer such settings, go and try them first. Another such idea can be picnic on a beach; in it you have to organize for the food yourself and the setting too needs to be arranged by you. Terrace dinner can also be a great idea and it will be a familiar setting to you too. Prepare a nice meal and if possible arrange it on the terrace of your dates apartment, it will be overtly romantic.
Points To Remember
Dress For The Occasion If you are about to have a romantic dinner with someone then he/she must really be special. Don't go to the dinner wearing your worn out denim and sweatshirts. Dress to attract attention; your date will be elated if you will attract attention of the opposite sex towards yourself. Select a three piece suit, a tuxedo or a black evening gown, cocktail dress etc. Wearing a perfume or deodorant is a must for such occasions.
Gift Your Date If it is your first formal date then gifting is essential, and otherwise too, taking a gift along will show that you care. The gift should be a casual one and not so expensive that its price tag starts to bother your date while dining. Take an unfussy gift like a box of chocolate, a soft toy, a small pendant, a card to say hello or flowers etc.
Don't think much about the ideas you want to use just think which kind of dinner will suit both your tastes. Anything which is appreciated by both of you will make for a nice romantic dinner date for you.
Subscribe to Riddle Puddle