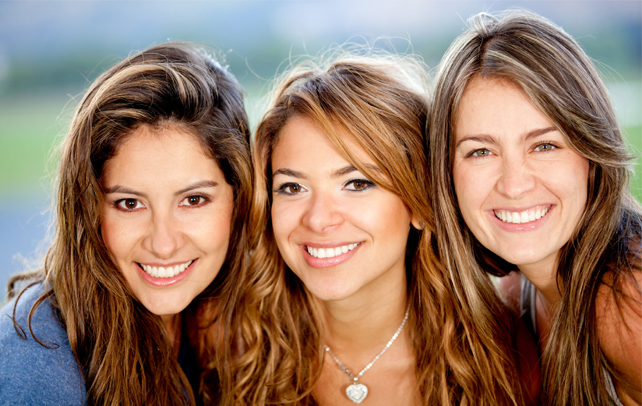 Subscribe to Riddle Puddle
You've finally decided to let go off the tom-boyishness and are ready to explore the feminine side of you. Great, but a little word of caution lest you leave the job half-done—being a girly girl involves more than changing from pants to skirts, shirts to blouses, shoes to stilettos and ponytail to perfectly styled hairdo. It is like going in for a complete makeover yet keeping yourself genuine and authentic. So, are you prepared for the same? Remember, a girly girl embraces her femininity and works hard to maintain the same. So, if you thought that sweating out on the field was a tough job, remember, this isn't a cake-walk either. You have got to put in a lot of effort to get those eyes rolling and tongues swaging. So, shed those inhibitions, lay off those bats and balls and prepare yourself for the big and welcoming change!  
Get Your Curves Back! What's up with you with the oodles of fat bulging out from here and there? Have you been loading up your belly lately? Get a closer look at yourself in the mirror and you would know that the excess mass is doing nothing but making you look like an ugly duckling! To be all girly, first get a grip of your waist and shun down on eating those fatty foods. Get to a nutritionist fast and make a diet chart for yourself. Binge on high-fibre, less fat and low cholesterol diet to get those curves back. Hit the gym twice a week and start off with yoga. Be sincere in your efforts to get back from the shapeless to the curvy-you!  
Wardrobe Revamped! Agreed, baggy is in vogue but only those that make one look sexy and suave. Wearing clothes that seem tailor-made for someone twice as healthy as you will only get the fashion police on high alert! To bring out the girly side of you, you need to wear clothes that would assist you in purpose. Hit to the mall and get clothes that are well-fitted and versatile in nature. Replace those baggy jeans with ones that seem custom-made for you. Include a variety of clothes in your wardrobe, such as casual tees, flowy skirts, cute patterned shorts, silky blouses and so on. Try out clothes of different cuts and shapes and stay far, far away from boring colors. Oh, before we forget, your wardrobe lies incomplete unless you have perfect accessories and footwear to match your clothes!
Sinless Indulgences! Yes, it's chocolate that we are hinting at, but not the usual indulgence of unwrapping a bar and splurging it down the food pipe! It is, in fact, the chocolate massage and manicure-pedicure sessions that we are aiming at. For if you are to be the girly girl, you should know that girls love detailing and attending to the smallest and the microscopic specifics of their body. Book a session or two at a salon near you and pamper yourself to their treatments. Rest assured, you'll come out like a budding flower with freshness and beauty redefined, which sure can get your female buddies go green with envy!  
Make-up Secrets! Take a look at the mirror—tons of foundation, cake-like compact, pitch-black kohl, dark lipstick and bloody (only literally) blush-on—were you dressing up for a Prom night or Halloween? Never mind! Agreed you have never ever applied kohl in your eyes, forget about doing make-up, but does that explain your frenzied look? Of course not! Remember, applying make-up is a perfect mix of staying natural yet enhancing your features. Swear by not to make yourself a Christmas tree next time you lay your hands on your vanity case. Just adhere to two basic principles—light dash of makeup for the daytime look and sparkling makeup for night parties. Have blind faith on your lip gloss, kohl, mascara and a dash of blush-on for occasions when you are clueless. One can never go wrong with them!  
Styled Locks! Do you often move out of your home with an out-of-bed hairdo? If yes, then the off-the-cuff days are over, for if you really desire to get the eyes on you, you need to first get your hair in place. For the same, take a first-hand look at your hair. Do they seem to be wearied down and lack lustre? If yes, then book yourself a hair spa at the nearby salon. Once your hair have gained their original lustre and shine, give yourself a new look by sporting a new haircut. You can go with the trendy styles of the time or one that suits your face. Just make sure that the style that you go for accentuates your personality and make you look gorgeous and fashionable.  
Get Grooming! Now that you have your curves back, some stylish clothes to put on, hair in place and make-up that makes you look charismatic and charming, is it all or are you missing something? No and yes; no because you are looking like a picture perfect pretty girly girl and yes because you still have the grooming part left. For despite looking like a girly girl, if you don't flaunt an attitude and mannerism of one, you will never be able to get yourself in the category. Check for your mannerism—from the way you walk to the way to talk, everything counts. So, every time you are out there, walk with your head held high, talk in a polished tone, sit with your legs crossed, be organized and avoid clumsiness.
Have You Misplaced It? With all the rush to be the pretty looking damsel, have you misplaced your smile somewhere? Find it and wear it for if not for your effervescent smile, you can never be the girly girl that you want to. Dressing up like a girly girl with a frown in your face will only make you look awkward. So, make sure that you have your pleasing smile along anywhere you go. But this by no chance gives you the authority to go on a giggling spree. Also, now that you wanted and have successfully changed yourself from being the sporty athlete to the girly girl, don't lose out on your confidence. Remember, ultimately it is your confidence and smile that would add that x-factor to your appearance!
Final Say: Just be comfortable and confident and you can rule the world!
Subscribe to Riddle Puddle