Flattering Pick Up Lines For Guys & Girls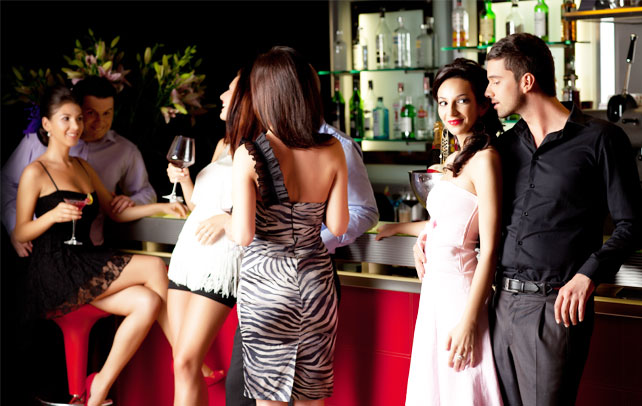 Subscribe to Riddle Puddle
Flattery is an art and art can either be inborn or cultivated. If you happen to fall in the latter category, then it requires a great deal of practice, precision and timing to master the art. Flattery, when flavored with the perfect cheesy and sweet pick up lines, bakes out as the right compliment to be served to the right person at the right time for the right reaction. Pick up lines for flattery can be funny, outrageous or simply honest. All you have to do is to pass a genuine compliment to the person who is looking forward for such admiration. However, care should be taken while flaunting a flattering pickup line lest your flattery back fires on you. Flattering pickup lines are synonymous with girls and ladies. Compliments are often used for impressing girls and as an attempt to reach their hearts. Be it "You are so beautiful you should be on the cover of the Vogue" or "If looks could kill, you would be a weapon of mass destruction", girls are bound to get hitched to you with such flattering comments. So, if you've always dreamt to snuggle your sweetheart in your arms and become the most romantic partner she could ever have, why not turn it into a reality? Listed here are some popular pickup lines that are cheesy, cheeky, intelligent yet tender and romantic.
Popular Cute and Cheesy Pick up Lines
I never believed in heaven until I saw you.
You are so sweet you could put Hershey's out of business.
I bet the wind blows just to feel how gorgeous your hair is.
So, you must be the reason men fall in love.
They must have been crazy to let an angel as beautiful as you out of heaven.
I've had a really bad day today but it always makes me feel better when I see a pretty girl smile. Would you smile for me?
You look cold. Want to use me as a blanket?
Do you believe in love at first sight, or should I walk by again?
I was so enchanted by your beauty that I ran into that wall over there. So I am going to need your name and number for insurance purposes.
Do you have BandAid? I just scraped my knee falling for you.
If LOVE was written on every grain of sand in the Sahara Desert, that still doesn't equal my love for you.
Is there an airport nearby or is that just my heart taking off?
Excuse me; I think you have something in your eye. Oh wait, it's just a sparkle.
Do you have a map? Because I just keep getting lost in your eyes!
You are so beautiful that you made me forget my pickup line.
Fascinating. I've been looking at your eyes all night long, 'cause I've never seen such dark eyes with so much light in them.
Did it hurt when you fell? [Girl: Huh?] When you fell from heaven?
You're so beautiful that you made me forget my pickup line – At the end of the day, nothing works like simplicity.
If I could rearrange the alphabet, I would put U and I together.
Whenever I think of the finer things in life, I think of expensive cars, fine wine…and you.
Are those diamonds real? [girl: YES] I was talking about the ones in your eyes.
I bet the stars are envious of your eyes.
I am pressing charges against you for stealing my heart.
There must be something wrong with my eyes, I can't take them off you.
You shouldn't wear makeup. It's messing with perfection!
The only thing your eyes haven't told me is your name.
If I had a rose for every time I thought of you, I would be walking through my garden forever.
I'm not drunk, I'm just intoxicated by you.
Be unique and different, just say yes.
Am I at the end of a rainbow? I just found treasure.
Blend with the right kind of attitude, topped with lots of tender love and garnished with a touch of innocence and twinkling eyes, these flattering pick up lines will sway your woman off her feet. Wish you all the best with sparking some attention and place in her heart with the above cute and cheesy pickup lines!
Subscribe to Riddle Puddle