How To Apologize To Your Boyfriend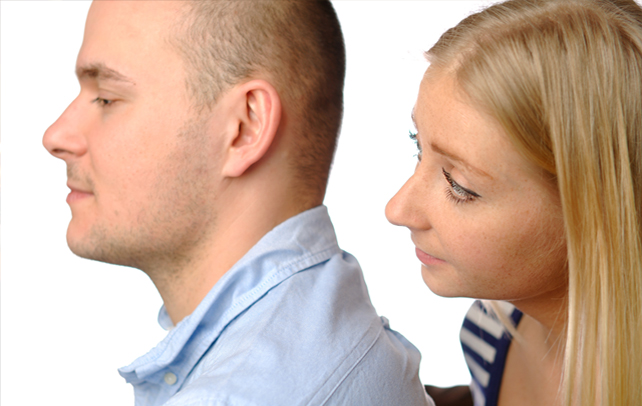 Subscribe to Riddle Puddle
Women may be difficult characters, but it is the men who are really hard to woo after a nail-biting fight. During a fight, there are countless possibilities of a woman or a man getting hurt emotionally. It is not about who apologizes first or who doesn't, it is about how a person apologizes or whether they actually mean it. When couples are in a heated argument, there are certain things that may slip from the tongue and are not meant to be told. In this situation, it is not the silence that is going to set things right, neither will the time heal. A quick action or quick thinking on your part might actually salvage the disaster and save you from a potential fight or breakup later. There may be limitless reasons for a woman to apologize to her boyfriend—from philandering with another man to uncouth behavior or harsh words. Either way, a few essential ground rules have to be understood before taking that big, apologetic leap. In order to avoid landing in that 'sticky spot', it is necessary to gauge your mistake and begin by taking these steps that could make your boyfriend forgive you.
Steps To Apologize To Your Boyfriend Initial Steps
You will have to pick the right time to apologize. Do not expect your boyfriend to welcome you with open arms and forgive you at a time suitable to you. Firstly, understand the intensity of the fight. Just saying 'sorry' will not do. You will actually have to mean it.
Men are multifaceted characters. They need their space and time, without which they might not even be ready to listen or talk to anyone. They should be left to themselves, especially if they ask for it! If your boyfriend does not want to talk to you at a time when you want to apologize, then it would be best to leave him alone.
Once the atmosphere is a lot calmer, choose a time when he is in a good mood, and in the right frame of mind to pay attention to what you have to say. It is safe to apologize in these circumstances. If your boyfriend forgives you in the first go, do not just forget about the incident and carry on with your life. You will have to be regretful about the mistake, and be extra cautious not to make the error again. If he is still not in a mood to discuss the fight, then choose a time and place where the two of you can be by yourselves, and where you can apologize to him at length.
Secondary Steps
Secondly, it is absolutely crucial to be 'honest' with your apology. Even if the timing does not turn out to be right, there is nothing worse that throwing a fake apology to your boyfriend, just to get over with the fight.
In order to make an honest apology, you will have to realize your mistake. During a confession, it is always advisable to do it face-to-face. Apologizing over the phone or by email will not have the same effect than when you apologize in person. Do not be over remorseful or overdramatic in your approach. A clean-cut, simple method will suffice.
Honesty will also come through in the form of body language. If you apologize too fast or if you seem disinterested while you stand or talk, it could probably hurt your boyfriend even more or get him to believe that your efforts are not genuine.
Do something nice for your boyfriend and do it from the heart. Understand his preferences and make him feel special. Your efforts to get him to just 'smile' or forgive you might actually move him. From cooking his favorite dinner to buying his desired video game or just taking him out on a long drive — use your imagination and experience to cheer him up. The point of doing something special for your loved one is to show your affection and true regret for the incident.
While apologizing, make sure your explanations are brief and do not teeter or stammer too much in a hurry. Be patient, and complete what you have to say clearly, but to the point. Long justifications of your actions might actually seem like a trying moment for your boyfriend. You do not have to persuade him to believe your earnestness; it will eventually come through on its own.
Final Steps
Be prepared for a negative response. After all, your boyfriend is only human. If you think you have done enough to apologize and he still hasn't recouped, then it would probably be best to leave him alone for a while till he soaks everything in. On a more positive scale, your boyfriend may even just 'forgive and forget!'
If the fight was a severe one, with a loss of either a material or money or on more serious issues, try being compassionate and take responsibilities for your blunders.
Do not put your ego at the forefront at this stage. In a serious fight, your sincerity, patience and your efforts to resolve the problem will come through, although it might take different span of time for different people. Most emotional and mental wounds take a while to disappear, so do not seem appalled if he still hasn't forgiven you.
Finally, you have to mentally prepare yourself for the worst. Even if things do not work out, then you will find solace in the fact that you at least tried to make amends. It is also necessary to understand the adage, "Whatever happens, happens for good."
There is nothing worse than a broken heart, especially if you are responsible for it. However, there is nothing healthier than apologizing for your mistakes from the bottom of your heart. Admitting your fault is in itself a gigantic task, and it has never been easy to own up for your mistakes. You will have to remember though that this is the case of your relationship with a wonderful boy. If you have made mistakes, then there should not be any problem in admitting it. Once you have put across your apology, don't try to re-open old wounds and memories. Shut the chapter out of your life once and for all, and overcome it with your boyfriend. After all, it is these fights that make a relationship healthier and stronger.
Subscribe to Riddle Puddle